Wine Tasting Dinners Featuring Brunello di Montalcino
Years ago, driven by a passion and love for the territory, Simone and his family decided to let the world know the flavours and fragrances of their land.
From here Cava d'Onice was born.
All the wines, such as the famous Brunello and Rosso di Montalcino, contain a history, the origins and the "vinesophy" that drives the Cava d'Onice family to follow the Sangiovese process from the land to the finished product through a purely family business.
Customer Service
Have a question about our products and services? Below you will find answers to many frequently asked questions.
HOW DO YOU CHARGE?
All prices are listed in Canadian Dollars.
Prices shown are per bottle price. A single bottle cannot be purchased.* You must have a minimum order of six (6) bottles in the shopping cart to checkout.
All prices shown are not inclusive of taxes. Upon checkout, taxes will be added.
A $0.20 bottle fee will be deposited upon checkout per bottle.
ACCEPTED PAYMENT METHODS
VitalitaWines.com accepts the following payment methods: Visa, MasterCard, American Express, Debit which will be charged upon checkout.
HOW TO PLACE AN ORDER
Orders may be placed on our website and by telephone. 
Ordering Online
When completing your order on our website, you will be able to create a vitalita.ca online account. By doing so, you will have access to your online account at any time, be able to view the status of current orders and your complete order history.
Placing Orders By Phone
To place an order by telephone, contact our order desk at 905.669.4111 or 647.281.9429.
WHO CAN PLACE AN ORDER?
To place an order on our website or by telephone, you must be 19 years of age or older. Proof of identification is required upon delivery. Wine orders are restricted to delivery within Ontario only.
DELIVERY METHODS AND SCHEDULES
You will be contacted in advance to arrange delivery details (date and time). In some cases, Canada Post may be used as well.
Generally, orders are shipped anywhere in Ontario within 3 to 7 business days during regular business hours. Some exceptions apply.
SHIPPING CHARGES
Flat rate shipping is applicable to orders delivered within our General Delivery Area (Greater Toronto and nearby surrounding areas including but not limited to the Barrie, Collingwood, Oakville, Oshawa areas). Delivery to locations outside our General Delivery area may incur additional charges or in certain cases require that you arrange and pay for the delivery of your order. In both cases you will be notified by our Customer Service team regarding what, if any, additional charges may be applicable to your delivery. Alternatively, you may enquire prior to placing you order by emailing us at info@vitalita.ca.
CONDITIONS OF DELIVERY
Government regulations require that individuals receiving wine orders are 19 years of age or older and are not intoxicated. Delivery agents will require a signature of receipt and are obligated to ask for proof of age (must be a valid piece of government issued ID) if it appears that the individual receiving the wine is under the age of 19. If there is no one over the age of 19 to accept the order, the wine will not be released, and alternate delivery arrangements will need to be made.
MISSED DELIVERIES
If your delivery is via courier, and you are unavailable to accept delivery at the arranged time, you will be contacted to reschedule the delivery. If your delivery is via Canada Post, and you are unavailable to accept delivery, a notice will be left behind informing you of the address where your wine can be picked up. 
CANCELLING ORDERS
If you would like to cancel an order, please contact us via e-mail at info@vitalita.ca as soon as possible. We will do our best to ensure your cancel request is actioned as quickly as possible, however, cancel requests for orders that have already entered our delivery process will be subject to a 15% restocking charge.
RETURN & REFUND POLICY
Unopened bottles and undamaged products can be returned within 30 days of purchase. A 15% restocking charge will apply. Please contact our order desk at 416.722.4460 or e-mail info@vitalita.ca to arrange for the return.
RECEIPT OF DAMAGED ITEMS (Broken Bottles & Damaged Products)
Goods must be immediately inspected by the receiving person for damages. If your order arrives damaged, you may either:
Accept Delivery: Keep the undamaged products and we will process a refund for the damaged items. In this case, any damaged product must be returned to the delivery agent. Damaged items will not be accepted after delivery has been made.
Refuse Delivery:Advise the delivery agent of your decision to have a replacement order delivered or your order completely refunded, in which case, a refund to your original method of payment will be processed within 3 to 5 business days after we have received your returned order.
TRACKING YOUR ORDER
If you require additional information regarding the status of an order, please contact us by telephone at 905.669.4111 or 647.281.9429 or e-mail info@vitalita.ca
REPORTING WEBSITE ERRORS
If you notice a typo, a faulty link, or other errors on our website, we would be grateful to hear from you. Please send comments regarding our website to 
info@vitalita.ca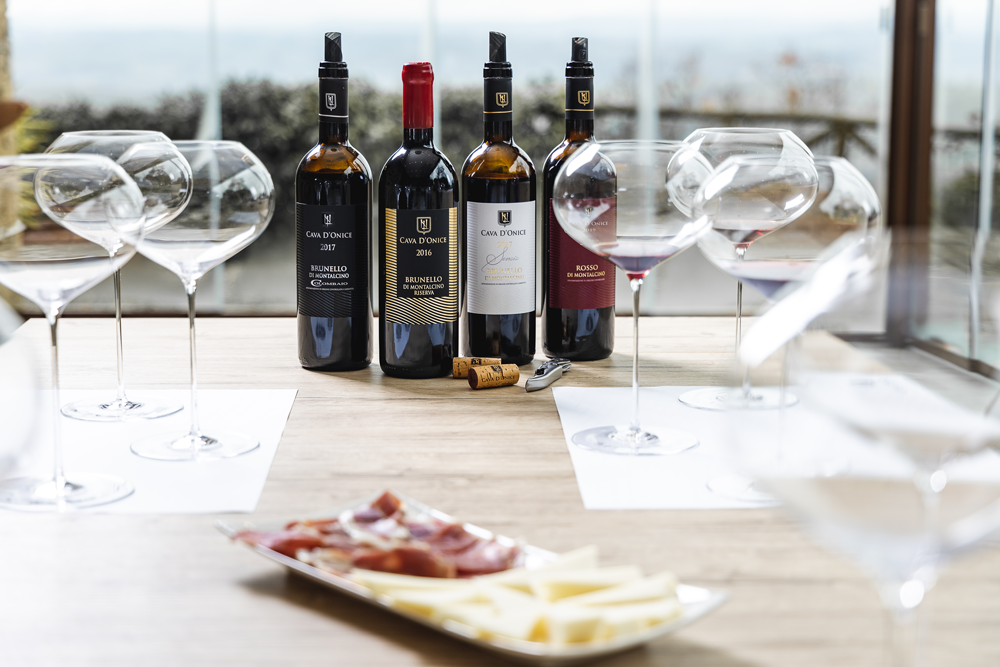 Brunello Tasting Dinner
Smoke and Mirror Gastropub
Vaughan, ON
5-course pairing meal joined by the wine maker from Cava d'Onice
Reserve Now